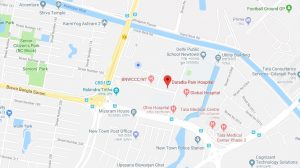 About Daradia:
Daradia received "Best Pain Clinic" award by Indian chapter of International Association for Study of Pain.
Daradia: The pain clinic feels your pain & sufferings. Located at Kolkata, India it has the facilities of diagnosis, treatment, research and training on pain management. Our patients suffer from headache, neck and back pain, knee pain, cancer pain, shoulder pain, small joint pain, etc. due to migraine, trigeminal neuralgia, arthritis, slipped disc, spondylosis, spondylitis, cancer etc. We use interventional pain management methods… Radio-Frequency procedures, Spinal Cord Stimulation, Percutaneous Discectomy, Vertebroplasty, Epiduroscopy, Ozone Nucleolysis etc.
Algology, or science of pain management is a new speciality of modern Allopathic Medicine recognized as 34th specialty in USA. It deals all kinds of pain either alone by algologists (pain specialists) or in association with other specialists like orthopedics, neurosurgery, psychiatry, physical medicine etc.
We evaluate the patient suffering from pain. After making a diagnosis, we offer most evidence based treatment option which can be medicines, interventions (minimally invasive or inj techniques) or surgeries.