How to Start And Run a Pain Clinic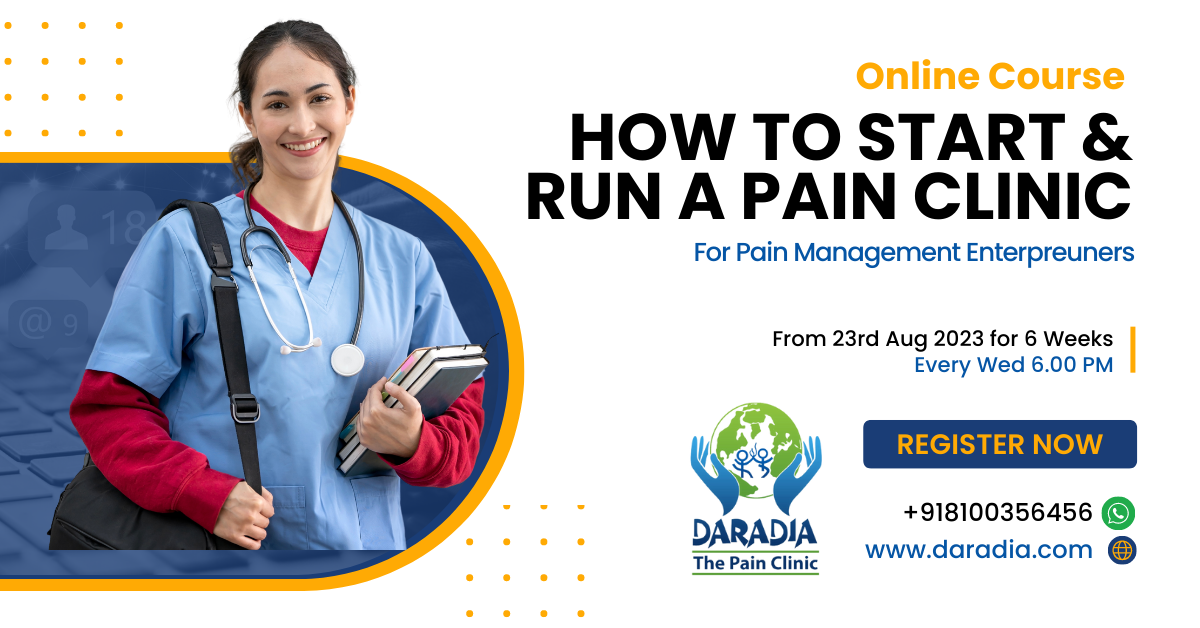 Introduction
Learn the essential steps of how to start and run a pain clinic with our comprehensive guide. From market research and licensing to effective marketing strategies and financial management, our expert advice will equip you with the knowledge and tools needed to confidently start and run your own pain clinic. Unlock the potential of providing quality pain management services in your community and make a positive impact on patients' lives.
Starting and running a pain clinic requires careful planning and attention to various aspects of the business. Below are important points to consider for successfully establishing and operating a pain clinic, covering marketing, operations, and finance:
Online Course on How to Start and Run a Pain Clinic
Dr Gautam Das wrote the book on this title 10 years back. Here is an online course of the same title. The non-medical business administration and management part will be covered by Soam Dutta who is a graduate of the Indian Institute of Management, Raipur.
The course will start on 23rd Aug 2023 and live classes will be there every Wed from 6 PM to 8 PM. Here are module wise divisions of topics:
📢 Grand Announcement:
Introducing Our Comprehensive Online Course – Mastering Pain Clinic Management: "HOW TO START & RUN A PAIN CLINIC"🏥
Are you eager to venture into the rewarding world of pain clinic management but don't know where to start? Look no further! We are thrilled to announce our groundbreaking online course that will guide you through every step of creating and operating a successful pain clinic.
🎓 Course Overview:
"How to Start and Run a Pain Clinic" is a carefully curated program comprising six comprehensive modules that cover all essential aspects of setting up and running a pain clinic.
📚 Module 1:
Setting the Foundation 🏢 – Exploring optimal floor plans and infrastructure to create a patient-friendly and efficient clinic environment. 🔧 – Identifying essential instruments and equipment needed for various procedures, ensuring top-notch patient care.
📚 Module 2:
Expert Training for Doctors and Staff 👩‍⚕️ – Equipping doctors with specialized pain management training, techniques, and certifications. 👨‍💼 – Training staff members to deliver compassionate patient care and handle administrative tasks proficiently.
📚 Module 3:
Navigating Guidelines and Regulations 📜 – Familiarize yourself with different guidelines and regulations from healthcare authorities. 🔍 – Understanding compliance measures and maintaining ethical standards within the pain clinic.
📚 Module 4:
Operations and Management ⚙️ – Developing efficient systems for patient scheduling, record-keeping, and workflow management. 📊 – Implementing best practices for inventory management, quality control, and patient feedback.
📚 Module 5:
Finance and Budgeting 💰 – Creating a comprehensive financial plan, including budgeting and resource allocation. 📈 – Exploring revenue generation strategies and cost-effective measures for sustainable growth.
📚 Module 6:
Promotion, Marketing, and Ethics 📣 – Crafting effective marketing campaigns to attract patients and build a strong brand presence. 🕊️ – Understanding ethical considerations in advertising and patient interactions.
📆 Enrollment and Availability:
The course will be available for enrollment starting from 23rd Aug 2023. You can access the course materials at your convenience, and there's no rush to complete it within a specific timeframe. You'll have lifetime access, enabling you to revisit the content whenever needed.
🎯 Who Should Attend?
Aspiring pain clinic entrepreneurs
Existing pain clinic owners seeking to enhance their clinic's efficiency and success
Healthcare professionals interested in pain management
🏆 Course Benefits:
Upon completion of the course, you'll receive a well-deserved certification recognizing your expertise in pain clinic management. Additionally, you'll gain invaluable insights, practical knowledge, and confidence to establish and grow a thriving pain clinic.
For more information and early access, visit our website or reach out to us by WhatsApp at +918100356456. Let's embark on this transformative journey together! 💪🏼
Remember, the success of a pain clinic depends on providing excellent patient care, maintaining ethical practices, the practice of evidence-based medicine, and continually adapting to meet the needs of the community and the evolving healthcare landscape. Seek advice from healthcare consultants or experts in the field to ensure you are making informed decisions at every step.
Course fee:
For India, Bangladesh & Nepal Rs 12500 + 18% Gov taxes = Rs 14750
For Countries other than India, Bangladesh & Nepal: USD 250 (inclusive of taxes) till 15th Aug
Register for the course: