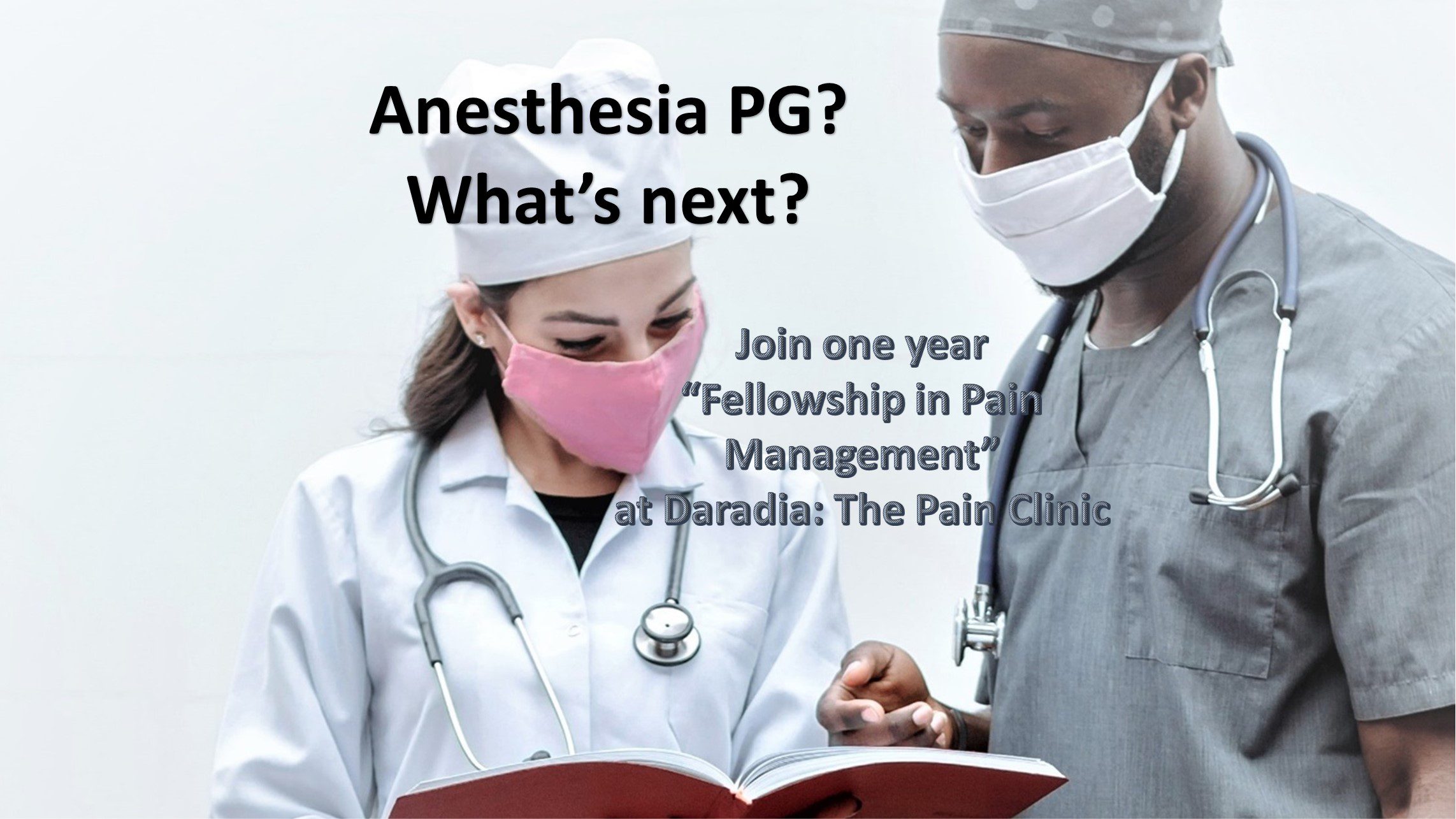 Fellowship in Pain Management
Types of one year fellowship programs:
There are 2 seats for a fully residential fellowship program with stipends. Contact us at +919163730004 for details.
There are 6 seats in every quarter for one year fellowship with 3 contacts.
Details of one years fellowship with contacts program
Daradia: The Pain Clinic was started in 2008 with an aim of spreading awareness about pain management and bringing an end to the suffering of chronic pain patients. A few years later we expanded into a bigger hospital with all the eminent facilities and latest technology for the treatment of all the chronic pain conditions. We received the "Excellence in Pain Practice" award from the World Institute of Pain in 2010 for pain practice, research in pain, and training of doctors in pain management across the world. We also received the "Best Pain Clinic" award from the Indian Society for Study of Pain in 2011.
Since 2008, we have been running various short courses in pain management, fellowship programs online training programs, tailored made courses, workshops on ultrasound-guided procedures, advanced procedures such as radiofrequency ablation, intrathecal pumps, etc. More than 7000 physicians across the world have completed some of our courses.
Faculty:
All the faculties of Daradia have vast experience in teaching, research, and publications. They have been involved in teaching the participants both in online and offline courses, they have numerous publications in peer-reviewed journals and have written various book chapters and they also have authored books in pain management.
Gautam Das
Shirish Amatya
Anamul Haque Milton
Sushpa Das
Smruti Rekha Hota
Highlights of the one-year fellowship:
6 participants will be taken in each batch.
Batches will start from 1st Jan, 1st of April, 1st July and 1st Oct. One can apply for any of these batches.
Each batch will complete online basic classes and demonstration for basics in first 3 months, then they have to come to Daradia for 3 months according to their convenience for learning the skills. Each participant can stay for multiple of 1 month in each visit starting from 1st day of the month.
Each participant can attend two online basic courses, one online fellowship in musculoskeletal pain management and one online advanced course in pain management only.
Each participant can attend one off-line hands-on workshop organized by Daradia Pain Clinic with other participants where registration fees will be waived. He/she can attend any other Daradia Pain Clinic-organized workshops at 50% discounts. However, they have to pay for CME certificates if they wish to have these.
During their stay at Daradia they will attend OPD, assist in interventional procedures, and perform interventional procedures under supervision.
On every Saturday During their stay at Daradia there will be involved in one of the following activities: seminars (online/offline), hands-on workshop on mannequins under C-arm, or ultrasound scanning on volunteers.
Each participant has to appear for offline final exam after completion of one year tenure.
Eligibility for admission:
The candidate must have a post-graduate degree, diploma, or DNB in anesthesia, PMR, orthopaedics, radiology, neurology, neurosurgery, or rheumatology.
Admission process:
Interested candidates can apply for a one-year fellowship through an online application form duly filled in along with a document of payment of online entrance examination fees of 900 INR. The date of the entrance exam will be announced on the website at regular intervals. Six top participants will be selected based on the examination results.
Syllabus for the entrance examination: pain pathway, pharmacotherapy of pain, and definitions/ nomenclatures of different types of pain (IASP).
Contact +91916373004 by WhatsApp for admission and entrance exams.
The next exam date for April 2022 batch is 7 PM on 5th March 2022
Course fee:
For Indian candidates- 1,80,000 INR inclusive of all taxes
For International candidates: 4300 USD inclusive of all taxes
Eligibility to appear for the final exam at the end of 1 year:
Completion of 3 months contact period
Submission of the counter signed log book
Acceptance letter of the submission of one article in a peer reviewed journal.
All candidates must submit article in first 6 months of their fellowship.
Payment of examination fees of 10,000 INR
Syllabus of one-year fellowship program:
Topics to be completed in first 3months (Online Mode only):
Clinical Methods in Pain Medicine: History taking in pain medicine, evaluation of headache, neck pain, shoulder pain, elbow pain, wrist and hand pain, low back pain, hip pain, knee pain, leg pain, ankle and foot pain, widespread pain, visceral pain and presentation of various arthropathies
Non pharmacological management of pain: Physical therapies and rehabilitation
Psychological evaluation and therapy: Various scales to measure depression. Comprehensive psychological assessment Treatment options Individual, group and family psychotherapy Cognitive-behavioural therapies Biofeedback and relaxation techniques
Pharmacotherapy: Local anaesthetics, Dextrose, Steroid, Opioids, NSAIDs and COX2 inhibitors Adjuvants/Co-analgesics: antidepressants, anticonvulsants, other adjuvants, Dye used in interventions
Basics of USG: Physics, Machine, Knobology, Tissue Characterization
C-arm guided procedures: Radiation safety, Fluro-anantomy of spine, MRI of lumbar spine and X-Ray of various joints and spine
Topics to be covered in the next 3months (Offline/Online)
C-arm guided interventions of lumbosacral spine: transforaminal/ interlaminar epidurals, facet joint medial branch block/discography/sacroiliac joint/caudal/ganglion impar
USG-Guided Interventions: Shoulder, Elbow, Wrist and Hand, Hip, Knee, Ankle and Foot, Lumbar Spine, Sacroiliac joint, Caudal epidural
Regional pain syndromes: Myofascial Pain Syndrome, Lower Back Pain
Neuropathic pain conditions: CRPS, post-stroke pain, phantom limb pain, post-herpetic neuralgia, painful diabetic neuropathy, scar neuralgia (post-surgical pain)
Rheumatological conditions: Rheumatoid arthritis, spondyloarthropathies, crystal arthropathy, SLE, DMRDS and Biologics
Topics to be covered in the last 6months (Offline/Online)
Regional pain syndromes: Headache, facial pain syndrome, neck pain, thoracic and abdominal pain, Pelvic and perineal pain
Specific types of painful conditions: Trigeminal neuralgia, Cancer Pain, including issues of death and dying, palliative care and hospice, Pain of unknown aetiology, Pain in children and elderly
Interventional Pain Management (USG/ C-arm guided procedures, hybrid procedures)
Interventions & nerve blocks in head and neck, Interventions & nerve blocks in the cervical and thoracic region, Advanced interventional procedures– endoscopic discectomy, spinal cord stimulators, intrathecal implants, vertebroplasty.
Neurolysis- Radiofrequency and cryoneurolysis, neurolytic procedures for cancer pain, neurolytic procedures for knee pain, hip pain, shoulder pain.
Regeneration therapies– USG guided regeneration therapies, PRP, Dextrose prolotherapy
General instructions:
Maintaining log book is mandatory and it needs to be submitted before the final exam.
One research article manuscript acceptance letter to be submitted before exam.
There should be a record of OPD/IPD participation
Details of participation in academic programme like seminars, symposium, clinical meetings, webinars, conferences, workshops.
Documentation of involvement in teaching programmes
Documentation of participation as a organising committee member in any conference or workshop
Documentation of the procedure observed, assisted and performed.
The candidate must have performed at least 50 interventions during his/her academic year.
The log book is to be filled regularly by the candidate.
The entries need to be endorsed by the concerned consultant
On the completion of the course by the candidate, this log book should be deposited in the department for future reference
Online application form for one year fellowship