Best Pain Medicine Course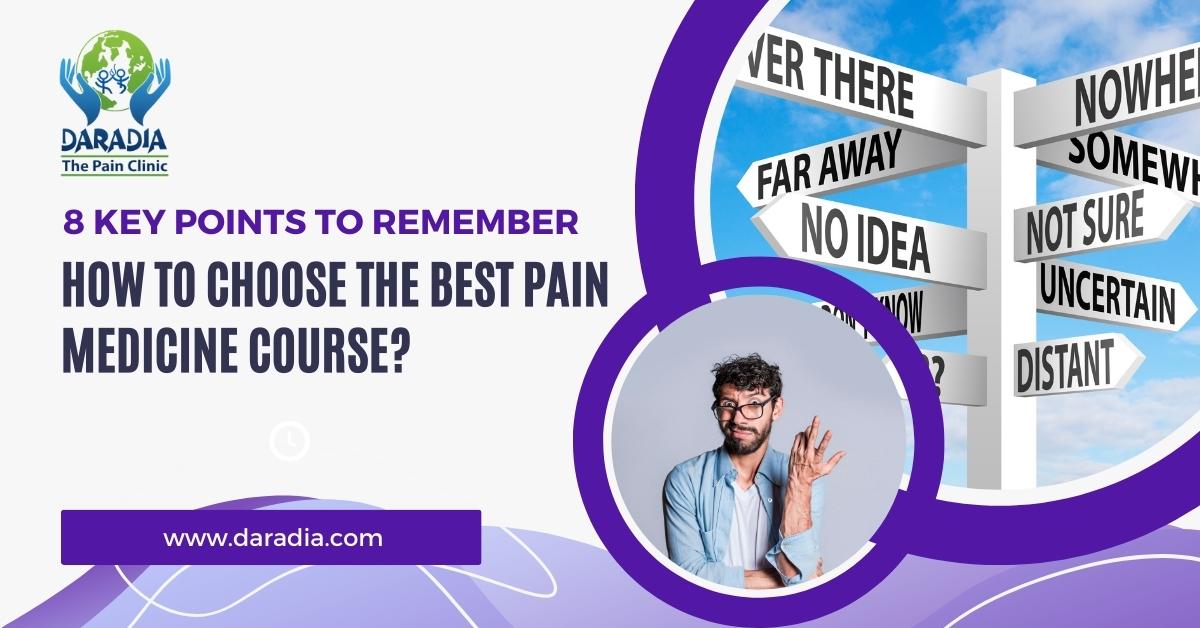 Introduction: 8 Key Points to Choose the Best Pain Medicine Course
As pain medicine advances, healthcare professionals seek comprehensive training to enhance their expertise in managing and treating pain. Many anesthesiologists are nowadays directly opting for pain medicine super-specialty and searching for a beginner's course. Online pain medicine courses offer a convenient and flexible way to acquire specialized knowledge and skills in this rapidly evolving field. However, with the abundance of options available, including many by non-registered organizations, it can be challenging to determine which course is the best fit for your needs. This page will guide you through the eight key considerations to help you choose the best pain medicine course online or offline.
1st: Accreditation, Affiliation & Govt Registration
When selecting an online pain medicine course, the most crucial step is to ensure that the program is conducted by a Government registered organization. The course must be accredited or affiliated with a University or Medical Council and recognized by other reputable institutions or professional bodies. Accreditation ensures that the course meets certain quality standards and has undergone a rigorous evaluation process by the university or Medical Council to approve affiliation. The certificate also carries no value if not affiliated or accredited with Medical Council or any University and offered by a non-registered organization.
In India and many other countries, CME credits are the most important authenticity of any medical course.
2nd: Hands-on Experience
The medical courses are different. Here the development of hands-on skills is critical. To practice any field of medicine, one needs to attend hands-on workshops, see the patient, and assist in managing actual patients. Full online courses are a waste of money unless combined with hands-on workshops.
HYBRID COURSE: Hybrid courses are an important addition to medical courses. It saves time by attending online classes and avoiding some classroom lectures. When it is combined with a hands-on workshop, it gives flexibility to senior physicians who may not be able to spend and attend everything offline.
3rd: Course Content and Curriculum
Evaluate the course content and curriculum to ensure they align with your learning goals and requirements. A comprehensive pain medicine course should cover essential topics such as pain assessment and clinical diagnosis, pharmacological and non-pharmacological treatments, interventional techniques, patient communication, and ethical considerations. Check if the course offers up-to-date information and evidence-based practices and addresses the latest advancements in the field.
A uniform mix of contents: The course must not highlight only one aspect; it must be a uniform mix of all aspects described above.
4th: Faculty Expertise
The expertise and qualifications of the faculty members delivering the course are crucial. Look for courses led by experienced pain medicine specialists, renowned researchers, or educators who have a strong background in the field. Review their credentials, publications, and professional affiliations to gauge their expertise and ensure they can provide valuable insights and guidance throughout the course.
Experience of faculty: Each patient is different. The learning remains incomplete unless you learn from a senior teacher who can give examples from his different varieties of patients.
5th: Interactive Learning Opportunities
Effective online courses should provide interactive learning experiences to enhance your understanding and retention of the material. Look for courses incorporating case studies, virtual patient simulations, discussion forums, and interactive exercises. These activities can help you apply theoretical concepts to practical scenarios and foster collaboration with fellow learners, promoting a more engaging and immersive learning experience.
Virtual Patient Simulation: Case discussion with multidisciplinary experts is essential to medical education. Virtual patient simulation is a valuable addition to online or offline courses when an actual patient is unavailable.
6th: Flexibility and Accessibility:
Consider the course's flexibility and accessibility regarding scheduling and technical requirements. Online courses should allow you to learn at your own pace and provide access to course materials, lectures, and resources that can be easily accessed from various devices. Check if the course offers mobile compatibility, downloadable materials, and opportunities for asynchronous learning to accommodate your personal and professional commitments.
Recorded lectures: For online courses, recorded lectures must be available throughout the course to review the lectures again and again.
7th: Reviews and Recommendations
Before enrolling in an online pain medicine course, take the time to read reviews and seek recommendations from professionals who have completed similar courses. Online forums, social media groups, and professional networks can be valuable sources of information. Hearing about others' experiences can provide insights into the course's strengths, weaknesses, and overall participant satisfaction.
`Word of mouth: Online reviews might sometimes be deceiving; know from your peers directly who have completed the same course earlier.
8th: Cost and Return on Investment
Consider the cost of the course with the value it provides. While cost is an important factor, prioritize the overall quality and relevance of the course content. Compare the tuition fees of different courses, but also evaluate the potential return on investment in terms of the knowledge gained, value of the certificate, career advancement opportunities, and impact on patient care.
Value of the Certificate: Apart from learning, judge whether the certificate is valuable in terms of career opportunities. Affiliation and accreditation add value.
Conclusion: How to select the best pain medicine course
Choosing the best pain medicine course or pain medicine fellowship requires careful evaluation of several factors. By considering the accreditation, hands-on workshops, course content, faculty expertise, interactive learning opportunities, flexibility, reviews, and cost, you can make an informed decision that aligns with your professional goals. Remember that investing in your education and staying updated with the latest advancements in pain medicine will contribute to your expertise and improve the care you provide to patients suffering from pain.