Workshops on Pain | Short Course on Pain Management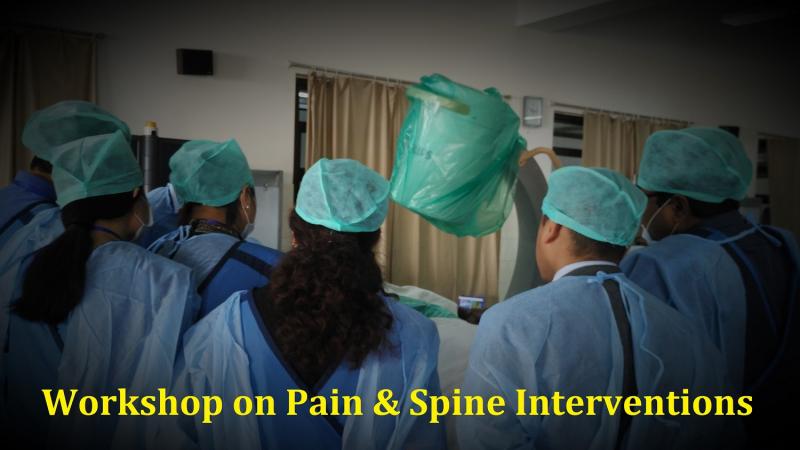 3 days' Workshop on Spine & Pain Interventions
It is an intensive workshop on interventions for spine & pain management to cover most interventional procedures, both C-arm guided procedures & USG guided procedures.

Why at Daradia?
Most renowned pain training center. Received "Excellence in Pain Practice" award by World Institute of Pain for training of physicians in pain management. Also received "Best Pain Clinic" in India award by Indian chapter of IASP.
Largest number of pain physicians were trained here. Till May 2016, about 1250 physicians has attened different pain management courses and workshops organized by Dradaia.
World wide reputation. More than 300 international physicians attended pain management courses including participants from USA, Australia
Excellent Faculty. Reputed faculty lead by Gautam Das take care of participants.
Innovative training methods. By designing mannequin, teaching materials and books Daradia simplified pain training.
Complimentary accommodation. Lot of good hotels are around for accommodation, but complimentary hostel is also available.
Read what others say about us:
Dr. Anthony Josheph Espinet DA, MD, FRCS, FRCA, FFPM (Specialist, Pain Medicine, Fellow of the Faculty of Pain Medicine, Australian and New Zealand College of Anaesthetists, Queensland, Australia): It is a very good pain management course .. I did this course.. I recommend this to others.
Dr. Mohammad Rahman MD, FAAPMR (Physiatrist, New York, USA): I did 3 months's pain management fellowship from Daradia. I recommend workshops at Daradia
Dr. Yusuk Mangara (Neurologist, Jakarta, Indonesia): I shall recommend this pain management course,
Dr. Awishul I. B. Gazali MD (Dept. of Anesthesiology, Hospital Taiping, MALAYSIA): I did pain management fellowship from here, I recommend
---
---
Forthcoming 3 days' Workshop on Interventional Pain Procedure Dates
Mail at info@daradia.com to register
Call us at +919163730004 for more information about the workshops
---
---
Highlights:
Organized in small group of 6-8 participants

Extended practice hours to cover most interventional procedures including advanced procedures.

C-arm & USG guided procedures to practice on mannequin

Radio Frequency procedures: principle & applications

Accreditation by Medical Council and CME credit point
---
TOPICS
C-ARM STATIONS:
Lumbosacral
Fluro-anatomy of Lumbar Spine
Transforaminal Epidural Injection (Kambin's triangle and safe triangle approach)
Facet Joint: Intra-articular + Medial Branch Block
Caudal Epidural Steroid Injection
Sacroiliac joint Injection
S1 Selective Nerve Root Block
Discography
Sympathetic
Lumbar Sympathetic block
Celiac Plexus block
Superior Hypogastric Plexus block
Splanchnic Nerve block
ULTRASONOGRAPHY STATIONS:
Upper and Lower Limb Nerve Blocks
Median nerve
Ulnar nerve
Radial nerve
Saphenous nerve
Sural nerve
Peroneal nerve
Tibial nerve
Shoulder Joint
Biceps, Supraspinatus and Subscapularis tendon
Acromioclavicular Joint
Glenohumeral Joint (Posterior Approach)
Suprascapular Nerve
GT and LT
Labrum
Elbow Joint and Hand
Elbow Joint
Common Flexor Tendon
Common Extensor Tendon
A1 Pulley
Carpal Tunnel
1ST Dorsal Compartment
Knee and Ankle Joint
Quadriceps Tendon,suprapatellar recess,suprapatellar and prefemoral fat pad
Patellar Tendon, Hoffa Fat Pad
Infrapatellar Bursa
Achelis tendon, Plantar fascia
---
Don't want to attend a workshop in a group of 6-8 doctors?
Join a workshop where you will be alone in the group.
For seniors & busy practitioners, we have tailor-made course where two faculty will take care of only one course participant. He will practice interventions alone & not in a group. Applicant can choose any dates, any duration & practice any particular procedures of their choice.